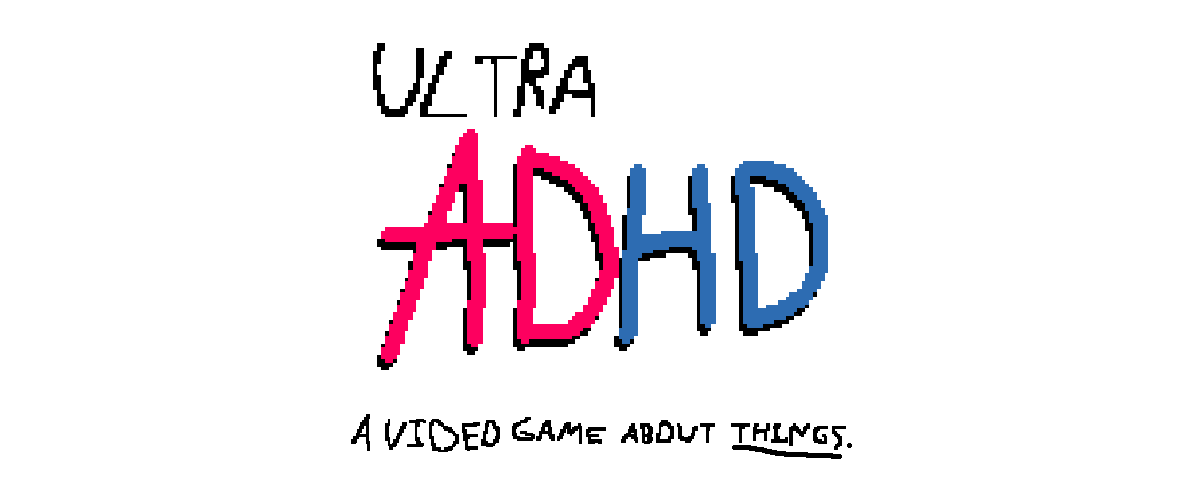 ULTRA ADHD
Ultra ADHD 2018 - What's New?
---
It's time! The ULTRA ADHD 2018 update is up and live! So, what's new?
- A NEW ENDING! -
Enjoy a brand new, fourth ending to the needlessly convoluted adventure. This ending can be reached after beating all previous endings. Without spoiling much, it attempts to tie up some plot threads I felt were necessary to resolve, 2 years after the original release.
- A REVISED SCRIPT! -
I will admit that the game has some jokes that don't really land. Actually, they're quite terrible in retrospect. These jokes were changed to something slightly more tolerable. Also, some minor details and nitpicks were added, and some typos were fixed.
- BUG FIXES! -
Do you hate soft-locking the game by touching some chairs in the church? Do you despise restarting the game after the text adventure failed to reset? No more! Some of the game's most obnoxious bugs were terminated in this update. And it only took 2 years!
- SOME... UNITY STUFF NOBODY CARES ABOUT! -
Ported project to Unity 2018.10. Updated the Fungus dialogue system to its newest version. Added HDR and Tonemapping to all 3D scenes. Changed color correction in some scenes. Balanced the audio a bit. Updated the UI and fixed it for smaller resolutions. See? Told you you wouldn't care.

---
This update is, of course, FREE for all new and returning Ultra ADHD players. AS IT SHOULD BE.

If you want to tell me how you felt about the game, hit me up on Twitter or leave a comment below. Thank you for reading, and please enjoy the game!

- DancingEngie

Files
Ultra ADHD - Windows
90 MB
Oct 05, 2018