Wolfenstäche: The New Censorship
What happened since we released Wolfenstache?
---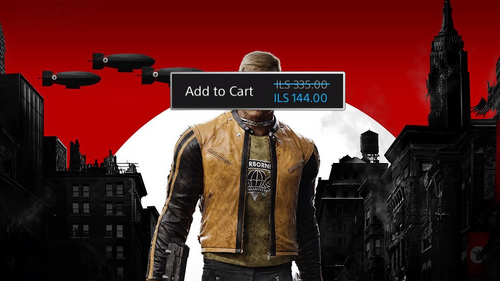 1. The Plot Thickens
The story of the Bethesda's self-censorship and the public discourse around game censorship in Germany has evolved a little since we published Wolfenstäche. We try to follow the news and Shalev, our designer, has been posting periodic updates to his website; we now also post them here on the game page, and we figured putting what we have so far in a devlog is useful.

DECEMBER 2017:
We noticed W2:TNC quietly appeared on the Israeli PSN store over the weekend, and as far as we know, this is the first time it happened since the franchise reboot in 2014. No official word from Bethesda yet, but perhaps our game (and the significant media coverage around it) got to them?
AUGUST 2018 UPDATE:
Reports are everywhere that Germany is softening its Nazi symbols ban, following a long public debate that Wolfenstäche was part of. Not the achievement we set out for, but an achievement nonetheless.
MARCH 2020 UPDATE:
The New Order and The Old Blood have been made available on Israeli Steam and GOG online stores. The New Colossus still remains hidden when using the Steam client, but not when using a direct URL or a web browser, for an unknown reason. Meanwhile, on the German side, we saw reports that the uncensored version of TNO was made available in Germany somewhere around late 2019 and as part of the GOG release. Progress?
2. Coverage
There are a couple of links in the main page, but if we're getting you up to speed on what happened since release, why not also show you the rest. Below is the media coverage that we found of Wolfenstache:

English: Motherboard, PC Gamer, Kotaku, Comicbook, Tablet, Jpost*
German: Wired, Lost Levels

French: Gameblog, l'Oujevipo
Hebrew: Mako, Yediot, Gadgety, Geektime, Kikar Hashabat, 103fm (audio)
As well as in Greek, Hungarian, Italian, and Spanish.
*NOTE: the Jpost article is hilariously biased.
**This list was collected in the months after release. Wrote something we missed? Send it to us!
3. Speedruns
There are a few honors a game can get greater than a proper speedrun. We are currently aware and in love only with this one, but readers are invited to break the record (and send us the footage).
Get Wolfenstäche: The New Censorship